 Several key moments in 16 years of history
In 2000, Saphety was totally different from what it is today. During this period, there were mergers, acquisitions, the creation of new business units and respective product development. Also, some segments were discontinued as its interest decreased – in the light of company's strategic focus – and the company began its internationalization.
Over time, Saphety had several key moments that determined its course, especially in the last six years. The acquisition of Softlimits "electronic markets" business area in 2010 was the turning point, which completely transformed Saphety's strategy. The company then decided to clearly focus on Electronic Document Exchange and Electronic Invoicing, by replacing the already implemented base by the new product. This was a project estimated for six months that ended up being completed pursuant to customer's needs. Rui Fontoura, Saphety's CEO, says it was a bold decision and, as of today technological integration, would probably have been planned in a different way. And this could be explained by the fact that the integration of two platforms of such complexity with the said implemented base had never attempted for production, i.e. without prejudice to the businesses with clients and without interruption periods. This was a tough decision that had its rewards. Currently, Saphety is the market's largest company operating in the electronic invoicing area.
Just before, the company had advanced to a critical area: electronic public procurement. Saphety has always focused on the market, trying to anticipate trends and the electronic public procurement in Portugal was one of those cases. The other is strictly related to internationalization, also initiated at the same time. To that date, Saphety's international businesses was practically non-existing. In that sense, the SaphetySync (exclusive for the international market) was created and is currently "sold" to clients through the Portuguese base.
Three years later, a new initiative. A new way of internationalization, this time with direct operations in target markets. The option was clear: Latin America, namely Brazil and Colombia. Firstly, due to the language advantage and to the fact that there were other Sonae companies in this market, and secondly, due to both market dimension and to the perspective of a clear focus on electronic document interchange – EDI. The operation in Colombia has brought experience and this is currently the market with the highest growth potential (and the market with a higher weight in Saphety's overall business), just because the company was able to anticipate the Colombian government focus on electronic invoicing.
These four key moments have determined the history of Saphety and dictate its future.
In next years, the company will focus on consolidating its business in Colombia and investing in its major business areas: electronic invoicing and electronic document interchange, electronic public procurement, data synchronization between companies and the newly created EBP, Electronic Bill Presentment (created in last year, specifically for the telecommunications market). According to Rui Fontoura, the latter will be the product that will present the highest international growth.
Saphety aims to keep on growing internationally, and considers the possibility of opening new offices. However, this is will only be considered after consolidating its operation in Colombia and for the Latin American market only. Regardless of the decision concerning new operations date and location, the recently obtained ISO 27001 will be one of Saphety's best assets. This is deemed as the main (and hardest to obtain) certification (being indeed the international standard and reference) for information safety management and, in some countries, is already a mandatory requirement, functioning as an extra guarantee and differentiating factor in regard to competitors. This happens when the company is well-known for working with its own products only and by the fact that its business core is located in Portugal.
Saphety in the near future
The company will keep on focusing on strategic markets and its core solutions:
Document Exchange: Electronic Invoicing to Portugal, Brazil and Colombia, with the latter being the market with the highest growth potential;
Document Presentment: Electronic Bill Presentment or EBP solution, for the international telecommunications market, predicting a large growth in the upcoming years;
Data Synchronization: SaphetySync solution will continue to grow internationally in a sustained way;
Public Procurement: Electronic Public Procurement solution, SaphetyGov, will maintain the sustained growth in Portugal, where the company is a reference operator.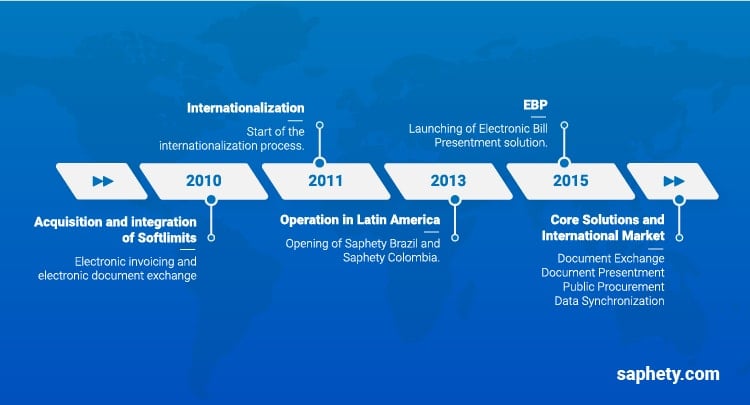 Saphety (saphety.com) is a leading company in solutions for electronic documents exchange, business processes optimization and data synchronization amongst companies. Currently, their client portfolio has over 4700 companies and over 129 thousand users throughout more than 30 countries.
Stay tuned by Subscribing to our mailing list! We will keep on discussing relevant themes about Corporate Venturing and will also dive into the entrepreneurship scene, helping young companies to grow.
Think your idea might have a good fit with Sonae IM's investment themes (Retail, Telco and Cybersecurity)? Does your VC firm need a strategic co-investor for a specific deal? Get in touch now!