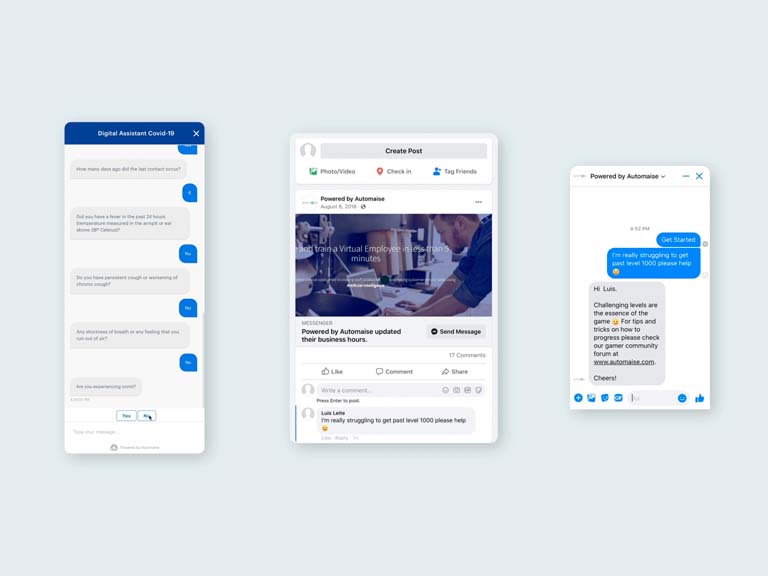 Automaise raises €1M for international expansion
Automaise, a low-code and cloud-based platform which allows for the automation of business processes through artificial intelligence (AI), has closed a Seed round of 1 million euro, led by HCapital and with the participation of its current investors, Bright Pixel and Armilar Venture Partners. After validating and deploying the technology in several large customers, the main goal of the company, founded by Ernesto Pedrosa and Carlos Oliveira, is to expand and grow in the European and North American markets.
Focused on implementing a growth go-to-market strategy, Automaise is expanding the marketing and sales teams. Currently, several positions are already open.
This is the second round raised by the Portuguese startup in less than two years. Ernesto Pedrosa, CEO and co-founder, highlights the relevance of the next phase. "This round is important for us to implement our growth strategy, including the expansion to new markets. Our existing and new investors validate the relevance and impact of our product and strategy in a highly competitive and growing market", he explains.
Automaise offers an AI cutting edge platform which allows, with a minimal implementation effort, to optimize and automate business processes. On top of its self-service platform (Automaise Studio), a tool that enables the fast development of AI solutions, Automaise provides three core products: Smart Voice & Chat, which automates conversational voice or text interactions with customers; Smart Inbox, automating the handling of traffic such as email, social media and case tickets; and Smart Decision, for automating business decision making, using AI.
The startup's target markets are enterprise sales to medium and large companies, and partners such as consulting companies or systems integrators, who can easily deliver AI solutions, using the Automaise platform.
Rui Dias Alves, Board Member at HCapital, said "We are very confident on the important role that all investors can play in consolidating the leading position of Automaise's AI platform in the Enterprise SaaS arena and in supporting the growth of its business, especially through the access to new international markets. It stands clear that we are facing a start-up with impressive growth potential, benefiting from times in which digitization is accelerating across all major industries".
"The progress that Automaise has made over the last eighteen months, since the Armilar fund first invested in the company, is remarkable. It has significantly matured its product in every aspect, from the artificial intelligence core to the user interface layers, and it demonstrated the ability of that product to automate tasks and processes for several customers, with several different use cases, validating the value that Automaise can create for companies by enabling them to build and manage their automations without needing to code or to be proficient in technologies such as machine learning. We're thrilled to welcome the new investors into the team, who share the excitement about Automaise's journey and will undoubtedly contribute to its success", adds Pedro Ribeiro Santos, Partner at Armilar Venture Partners.
Benjamin Júnior, Board Member of Bright Pixel, shares that "Automaise stands out due to its solution potential and its growth in the markets where it has performed. That said, it is essential to reinforce its international expansion strategy and consolidate its position. This is a goal to which we want to contribute actively and that has motivated us to step up the investment and the trust in the team".
In only three years, Automaise has already implemented its technology in benchmark companies in the Telco, Retail and Insurance sectors, in clients such as Altice, CTT, Leroy Merlin, Continente Online, and Caravela Seguros.
Founded at the end of 2017, Automaise develops an innovative, low-code platform of Artificial Intelligence (AI) for process automation, serving various sectors that way, with a special focus on banking and insurance, retail, telecommunications, transports, and logistics. Its founders are two serial entrepreneurs: Ernesto Pedrosa, of vast technological knowledge, developed both in big companies, like Microsoft and other startups, and Carlos Oliveira, recognized entrepreneur, and founder of MobiComp, a company acquired by Microsoft.
About Armilar Venture Partners SGFCR, SA
Armilar Venture Partners is Portugal's leading venture capital funds manager. An independent VC with a history of more than 20 years, a high-performance track record and an international footprint, Armilar is a deep-tech investor, with a focus on early-stage technology-based companies where data, digitisation and connectivity play a central role. Currently, Armilar's funds under management amount to about €260 million, deployed typically as lead investor in seed to early-stage deals in companies in Portugal, Europe and the USA. To find out more, please go to www.armilar.com.
Bright Pixel is an investment vehicle, born in April 2016, that contemplates various mechanisms through which it supports and actively invests in early-stage technology projects. Amongst them, the 8 million euros fund stands out, released to invest in startups with Portugal-based operations.
HCapital Partners is an independent private equity company dedicated to investing in Iberian SMEs, with over 90 million euros under management. The investment in AUTOMAISE is held by the HCapital New Ideas fund, an early-stage VC fund devoted to investing in innovative companies in the areas of Data & Connectivity, Energy, Smart Cities and Industrial & Enterprise processes optimisation. For more information, go to: https://hcapital.pt/.