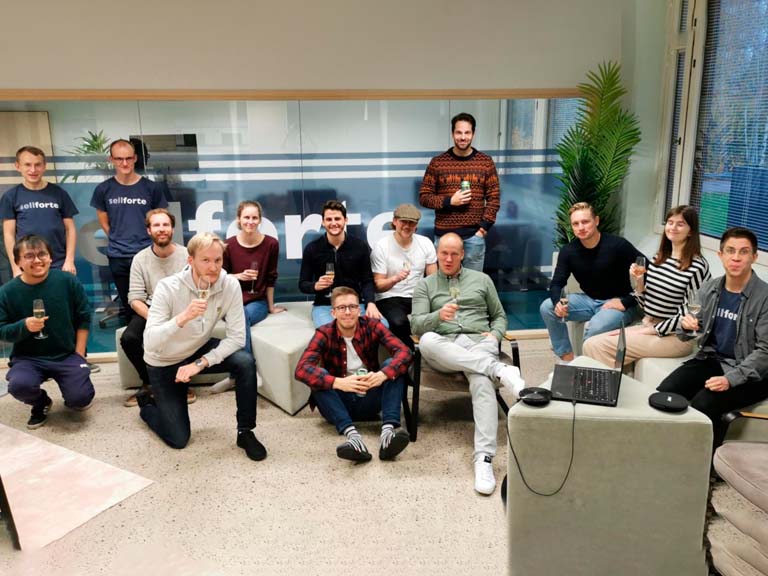 Sellforte raises €4M funding to bring science to marketing
After growing threefold in the past 12 months, funding from Sonae IM, Bonnier Ventures, and Icebreaker.vc will further accelerate Sellforte's expansion in Europe
Sellforte, an AI-powered marketing optimization platform, has raised €4M in funding led by Sonae IM, with Bonnier Ventures and Icebreaker.vc also participating in the round. The company will use the capital to hire new talent to scale R&D on its product offering and further expand its operations internationally.
The complexity of marketing measurement has increased over the years, as there are numerous factors like fragmented media, promotions, pricing, and assortment changes that affect a company's sales and profitability. But as the recent Gartner Marketing Data and Analytics survey points out, analytics influences only 54% of marketing decisions. Amongst the top reasons marketers have not been able to utilize analytics in decision making are bad data quality (32%) and unclear recommendations (31%).
Traditionally, enterprises have resorted to one-off projects, trying to access marketing campaigns' results on an ad-hoc basis. The market is now demanding disruption, with continuous self-service tools, able to connect all relevant data and delivering results under one solution.
"Sellforte's platform is a home for previously scattered internal and external marketing data. By having this data in one place, our data science models can calculate comparable ROI for every marketing investment across different media channels and campaigns. This creates a common currency across the previously incomparable Facebook impressions, Google clicks, TV TRPs, and many other media channel-specific metrics. Continuously updating ROMI results enable our customers to run controlled tests with all of their marketing campaigns – in digital and traditional media, both in offline and online sales channels," says Juha Nuutinen, CEO & Co-Founder at Sellforte.
Sellforte's SaaS platform utilizes proprietary data science and AI to measure the effectiveness of online and offline marketing investments, generating continuous and customized recommendations for growth. Used by industry-leading companies such as C&A, Elgiganten, and Cloetta, Sellforte's platform helps CMOs and other C-level executives process and crunch millions of rows of sales and marketing data to help make the right business decisions.
"CMOs invest tens or hundreds of millions in marketing every year, but they have limited tools available to optimize that overall investment. Sellforte exists to help our customers see which investments have been profitable, which have not, and how to optimize the business impact through future campaigns. Typically our customers achieve 20-30% improvements in their marketing effectiveness by optimizing their media mix, campaign mix, brand mix, geographic mix and timing of media investments. We just love to see our customers thrive!" Nuutinen continues.
Measuring online and offline marketing investments with comparable ROI metrics has become a relevant challenge for all marketers, especially as big tech companies such as Google and Apple have defined new guidelines for consumer data privacy by removing third-party cookies from their products. Sellforte's platform does not rely on data from these cookie providers, meaning that end customers can still measure marketing effectiveness even though things are about to change quite dramatically.
"Sellforte is disrupting a sizeable market controlled by services-driven offering with a top-notch AI-driven product. The core team has strong capabilities to be able to deliver the ambitious goal of growing internationally in large sectors such as retail, telecom, and FMCG. We were impressed by the ability to return exponential growth in a highly difficult context, which demonstrated the real need to measure the ROI of marketing campaigns," says Miguel Bagulho, Investment Director at Sonae IM.
"Sellforte is solving a critical issue for marketing executives by delivering a unique product with clear benefits on how to optimize marketing investments. The investment ticks many of the boxes in what we look for, it is a high-performing platform solving a significant problem with global potential backed by an excellent team," says Dajana Mirborn, Investment Director at Bonnier Ventures.
Founded in 2017, Sellforte has raised €4.5M in total funding to date, and serves customers in 14 countries from its offices in Finland, Sweden, and the Netherlands. With this new funding round, the company aims to continue its European expansion, planning to open new offices in Germany soon.
The Finnish venture capital fund Icebreaker.vc invested in Sellforte in the early stages of the company, and the fund continues its support in the current round:
"The Sellforte team has transformed passion and industry expertise into a software product that is bringing extremely strong results to their customers. We're thrilled to support Sellforte going forward in the next stages of the company," says Riku Seppälä, General Partner at Icebreaker.vc.
Based in Helsinki, Finland, Sellforte is an AI-powered marketing optimization platform that helps CMOs and other C-level decision-makers to make advised decisions that are based on their own marketing, sales, and promotion data. With customers in 12 countries such as C&A, Elgiganten, Cloetta, Stockmann and Musti Group, the company platform utilizes AI to continuously measure the effectiveness of marketing investments and generate recommendations for growth – online and offline. For more information, visit www.sellforte.com.
About Sonae Investment Management
Sonae IM is the technology investment arm of Sonae Group, a multinational business group with a diversified portfolio of brands with market-leading positions, namely in retail and telecommunications. Sonae IM invests in retail technology, digital infrastructure and cybersecurity, on a global scale. Sonae IM has more than 30 direct investments, encompassing stakes in companies from early-stage to growth stage as well as indirect investments through other VC funds.
Bonnier Ventures is the venture capital arm of the family-owned Bonnier Group. Bonnier Ventures targets significant minority shareholdings in technology businesses across multiple growth stages with a stronghold in the Nordics and ambition to scale globally. Operations are carried out by a dedicated team based in Stockholm, with investor partners in several geographies in the US and Europe.
Icebreaker.vc wants to be the best in supporting people to start, build and join strong tech companies. Their initial investments range from €150-800k and we invest in teams in Estonia, Finland and Sweden.