Here at Sonae IM, we are very close to the entrepreneurial ecosystem and follow, on a daily basis, the emergence and development of the next generation of companies.
In a way, it is a lot like what happens in the education sector from a teachers' perspective – he also follows the development of the student's next generation.
During the last 20 years we witnessed so many tens of transformations and still our education system looks yet the same. Many cross-industry big buzz words like big data, mobile, customer-centrism and so on, are yet to enter our education systems. Take the shocking example of college students who are still forced to choose among a restricted set of bundled courses with barely static programs with no saying over their learning path.
Besides the limitations this brings, in terms of individual development, it also has repercussions on the job market which is currently demanding professionals with a wider set of skills than our education system is able to produce and hardly matches.
In parallel, we can also see the environment is much more dynamic than it ever was. Companies have shorter lifecycles and new jobs are being created at a faster pace. Both companies and individuals need to have the right tools to adapt to these changing technological conditions, and education must be the key, whether in schools and universities or corporations, but also embed in our professional activities and hobbies.
For this reason, we've decided today to talk about Edtech, one of the most discussed subjects nowadays when it comes to the entrepreneurial environment.
Despite not being actively looking at this sector for the time being, we like to know our surroundings, just in case.
First things first, how do we define Edtech:
"Education Technology (also known as "Edtech") refers to an area of technology devoted to the development and application of tools (including software, hardware, and processes) intended to promote education". Source
The growing amount of startups in the field is fostering knowledge like never before and providing us with new learning tools and methods.
Jeff Bussgang (@bussgang), an investor at Flybridge Capital, an early stage US based VC firm which has been looking into this sector, proposed an interesting industry segmentation, highlighting the segments they believe represent the most interesting investment opportunities – they have some investments in this area, including Open English and Codecademy, so we're hoping they know what they are talking about.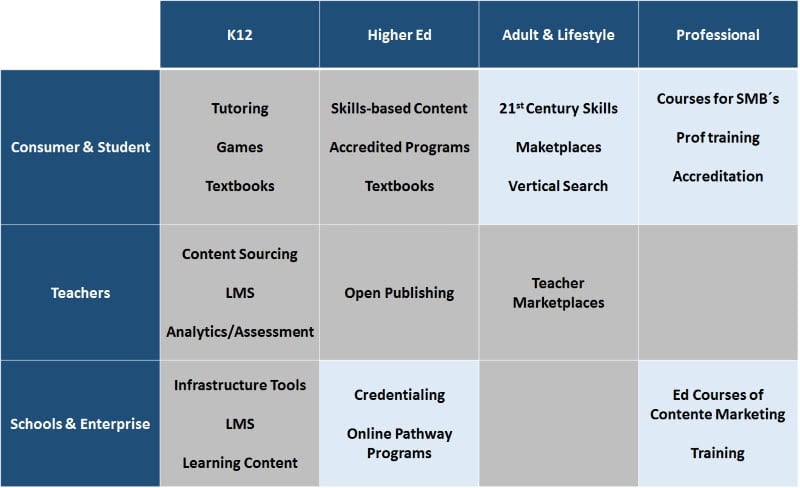 Online courses marketplaces like Coursera and Udemy are making education accessible to people on a global scale, particularly on emerging markets. User-generated content platforms, Youtube and Wikipedia provide access to highly targeted content, such as do-it-yourself (DIT) videos or key concepts. Language learning tools, such as Duolingo is turning education into a fun hobbie.
In addition, there are a whole set of providers focused on improving professional aptitudes such as Codecademy or Lynda.com, recently acquired by Linkedin.
From the digitalization of content and online courses to the corporate training market, I believe these technologies have the capacity to significantly improve our world. Take the example of online pathway programs. In a time where information is scattered all over the internet, having a personalized course based on my end goal, whether it is to learn how to code or how to build a wooden garden house, is definitely of real value.
These are some examples but there are many more, and together these companies are pushing forward the boundaries of education making it available to anyone and anywhere, while placing the choice on the user side.
Nevertheless, there are still some bumps along the way
Business models are still not clear and the challenge of monetization seems hard to solve. On the other hand, many investors are still not knowledgeable enough to enter the sector and, above all, education is still mostly funded (and thus controlled) by governments. Barriers that in time must be taken down, we believe.
In Portugal, we see some activity in this sector. Companies like SABE, an end-to-end B2B learning platform for enterprises, WeDuc, a pioneering startup in the sector based on a private curated social network engagement model, Eduke.me, focused in the professional sector with video tutorial offering and Academia do Código and Stuk.io with a quite interesting value proposition, focusing on specialized training, are some of the examples.
Moreover, the recent initiative from Fundação Belmiro de Azevedo, Edulog a think-tank focused on promoting the discussion and tackling the challenges of our education system. My bet is that many of those conclusions will be around these emerging technologies tracing the way for a better future in education.
Our 2 cents for the entrepreneurs
For our entrepreneurs' readers, we'd like to share some humble recommendations that might be useful when developing an Edtech-based company.
First of all, focus on the content development or technology stack. There is an increasing amount of quality content on the internet and you don't have to reinvent the wheel to start exploring the field.
Secondly, most online courses have high dropout rates. Content relevance and accuracy are important but do not disregard format. User engagement is the one metric you must focus in the beginning and a user friendly format will do wonders for it.
Also, select a niche within the industry to tackle and validate your product. Do not tackle all segments, from K-12 to professional workers with several targets. As we usually say, think big, start small and check the details. Use the so called lean way along the development so you make sure you are always on track with your customers' expectations.
Finally, validate your business model with investors or simply use an already proven model. Remember, most investors are still in the dark regarding this field and most investments are state driven.
Feedback is gold, so any critiques, comments or additional information are very much appreciated.
M&M